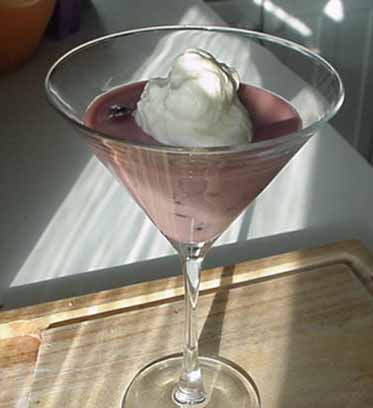 Hungarian Sour Cherry Soup
Recipe by Anikó J. Bartos
Meggy leves ["MED yuh lev esh"]
Active preparation time: 1/2 hour
Servings (when cold): 4 to 6 -- 2 quarts
Pour only the liquid from:
2 13-ounce thawed frozen cherries (Cascadian Farms Organic are tasty) into a 4-quart pan, and sauté this syrup at 70% heat. While waiting for it to boil, add:
1/2 cup sugar (I used closer to 3/4 cup)
1/2 cup water
1/4 teaspoon imitation rum extract (I used real rum, 1 teaspoon)
1/8 tsp. vanilla extract
10 cloves (I laid low on the cloves -- only used 3)
1/4 stick cinnamon
2 pinches salt
Meanwhile, put the cherries themselves into a 1-quart bowl, and sprinkle:
3 heaping tsp. flour
on the top, while carefully stirring them in with a spoon. After the above syrup mixture finally boils, turn it down to a simmer and stir in the cherry/flour combination. Then add: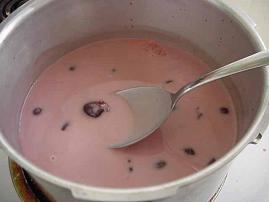 2 lemon slices (round, 1/8 inch thick, cut from the fruit's center)

and turn the heat back up to 70%, stirring frequently. When it boils again, slowly stir in:

1 pint whipping cream

Continue at a low boil for 5 minutes and stir often. Allow to cool for 1 hour, then discard the lemon slices. Refrigerate for at least 1 more hour, and serve in bowls at your convenience. For an extra festive touch, put a dollop of whipped cream on top of each portion.
Jó étvágyat ["Yo ate VAD yat"] - bon appétit!

Every Hungarian family has its own unique recipe for sour cherry soup; the slightly-sweeter version here was designed around items readily available at most U.S. markets. In Budapest, this soup is generally served before the main course, but my American friends enjoy it as a dessert.

Real sour cherries are normally found only at specialty shops like Ernie's.

---------------------

Anikó J. Bartos now maintains studios in both Los Angeles and Budapest, after coauthoring the 9TimeZones.com print\web\wap project. She's currently finishing a cookbook entitled: "Hungary? Let's Eat!"